About Department
The Electronics Engineering Department was established in 1983 along with Computer Engineering when the foundation for RAIT was laid. Over the course of 35 years the department has grown to become one of the two largest departments in the institute with the intake of 240 UG and 18 PG students. Since its inception, the department has followed uncompromising standards in educating Electronics engineers.
The department is fortunate to have teachers with exceptional education qualifications with sufficient knowledge of pedagogy. With their dedication, hard work, sincerity and in-depth knowledge, and armed with the state-of-the-art laboratories and high-end software, it is no surprise to the faculty members' active involvement in original research. They are also encouraged and supported, both in terms of infrastructure necessities and financial help, to pursue research activities. This has resulted in the publication of over 150 papers in high quality peer reviewed journals, filing of over 15 patents, and publication of over 100 number of papers in international conferences.
The department faculty have collaborations with reputed educational institutes like IITB, COEP, VJTI as well as industries like BARC, Cypress Semiconductors. The department also has a center of excellence on IoT funded by Cypress Semiconductors. University of Mumbai recognises the quality of our faculty and invites them routinely for university activities.
The department hosts IEEE-RAIT, an association of students of this department. The purpose of the association is to bring out the hidden talents (technical & non- technical) of the students by organising various technical activities.
The UG and PG curriculum is kept latest with regular revisions every 5 years by Mumbai University. Local chapters of various professional bodies have been formed by the department and enthusiastic students actively carry out co-curricular activities through these chapters.
The department has the pleasure of having top rank holder students in Mumbai University and various competitive exams such as GATE, CAT, GMAT, GRE etc.
This department has been accredited by National Board of Accreditation (NBA) twice, 2005-2008 and 2012-2015.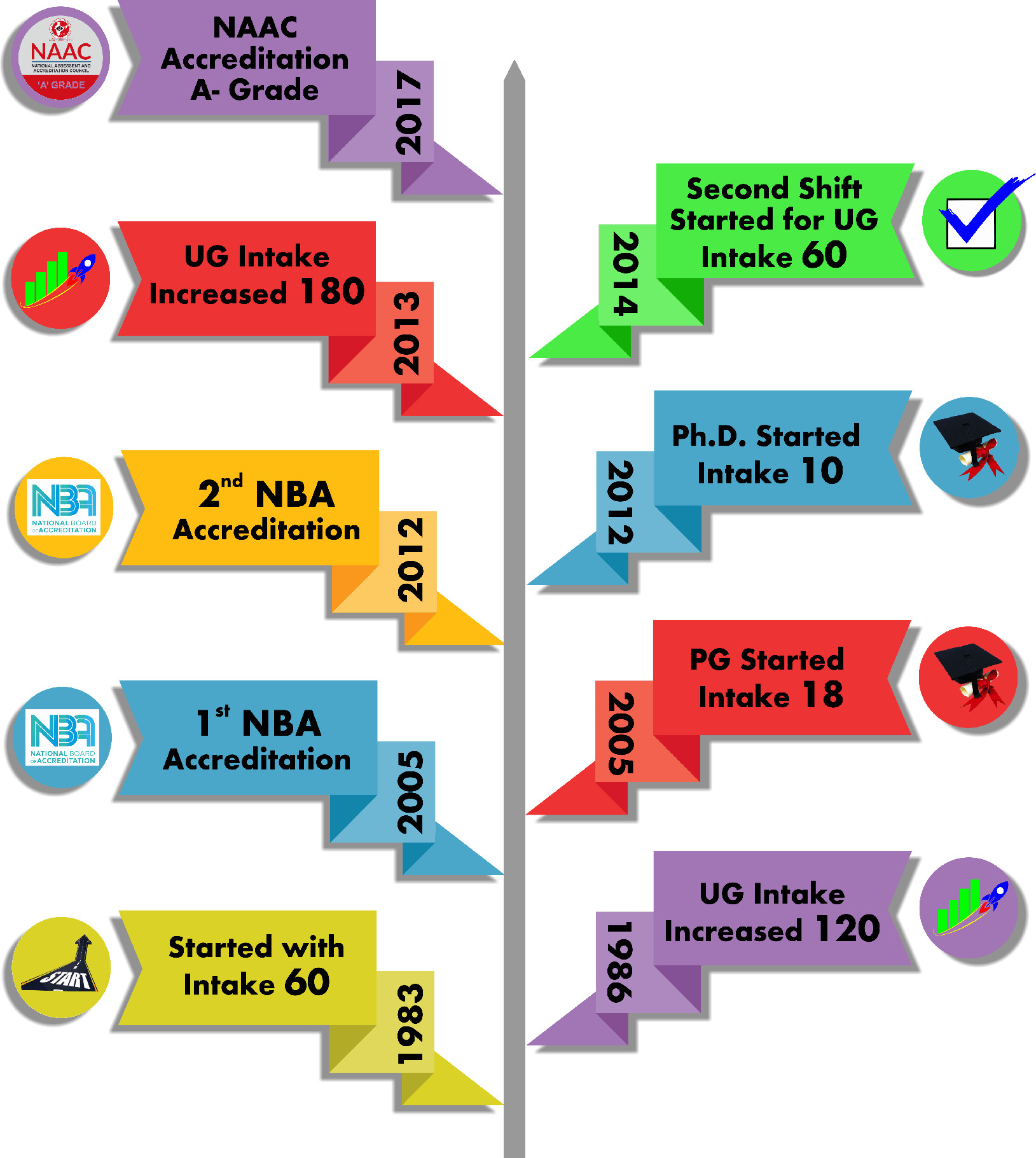 Department Evolution Over The Years